Policy
Fishing regulations
Definitions and fishing licenses
Other facts (where to purchase fishing licence etc)
Our fishery and current fishing waters
Fish monitoring
Accomodation
Food purchase and other shopping
Where to eat

Jämtland!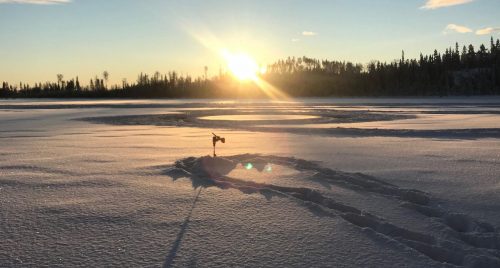 Storåsen-Albackens Fishery has a rich range of fishing waters and excellent fishing prospects, which you can read more about here on our website. You can fish trout and grayling here among rapids, or rainbow trout, char, perch, pike and whitefish in still waters. You may very well land the odd roach as well! For any queries you may have please check our website or enquiries may be made to our chairman Ms Gunvor Sundin +46 70 697 75 99, or our fishing license purveyors who are well informed and extremely knowledgeable. The information currently found on our website is continually up- dated.
Policy – Storåsen-Albackens Fishery
Decisions taken at the association meeting 18th March 2018.
Fishing at Storåsen-Albacken's Fishery is part of our cultural heritage, carried down through many generations and is deeply rooted in the present. We are determined to sustain our cultural heritage in such a way that will benefit both current and future generations.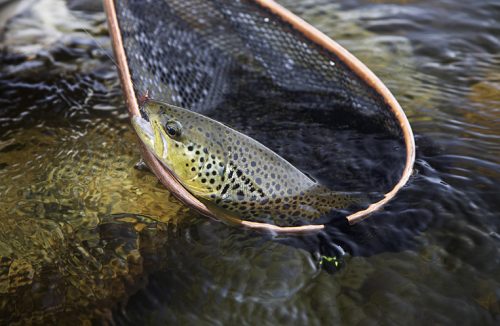 Fishing here is, and always has been, an asset available to all and sundry and our ambition is to maintain this in a responsible and sustainable manner. Everyone interested in fishing should be able to find their own individual fishing paradise, irrespective of being novices, experienced fishermen or simply someone out for a pleasant evening in the company of family/friends on a fine spring/winter day or a glorious summer evening!
Lakes and ponds, holding natural as well as implanted stocks of fish, as well as Gimån's rapids and "sel" (stretches of still water pooled between the rapids) provide our fishery with an enormously wide range of fishing prospects and other experiences in nature. The abundant varieties of fishing serve to entice tourists/visitors while providing a potential for employment, attracting people to move here, something that is very important to us.
Fishing enthusiasts living in the district, permanent residents as well as leisure/holiday home owners, must be made to feel just as welcome as temporary visitors.
We think that fishing is decidedly one of the best ways to introduce the upcoming generation - in a natural and uncomplicated way – to our fantastic nature and encourage them to make the most of it. An ambition in our association is therefore to work towards encouraging an increasing number of children and young people who will eventually enhance the future by taking the sport of fishing seriously.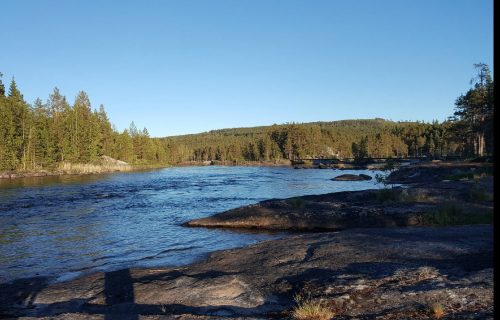 Our pricing strategy derives from the fact that we are of the opinion that an external contender should pay a little more than those who are permanent or leisure-time residents in the fishery vicinity. This is an active choice we have made as we consider fishing to be an important and fascinating occupation, which may very well help attract people to the area, in keeping with various other measures being introduced to counteract people moving out and to encourage an influx of new residents instead.
Fishing regulations
Determined at the association's meeting 18th March 2018.
Permissible size and number of fish per day/person
The fish quota allowed per day and person in Gimån's rapids is maximal three (3) with a minimum size of 35 cm. There are no restrictions regarding quota or size of fish in smaller rivers and streams. All other game fishing is restricted to maximum five (5) fish of a minimum size of 30 cm per person and day.
Fishing Prohibited
Fishing grayling is strictly prohibited in all of Gimån's rapids, including protected zones, during the period 15th April to 31st May and the same applies to trout fishing during the period 1st September to 31st October. Fishing is totally forbidden in Gimån's rapids from freeze-over until 31st May. Fishing is always forbidden in implanted waters through the time fish stocking takes place and during the fishing premiere – signs are always put up by the waters in question. All fishing premieres are clearly announced in municipal fliers or/and the local media.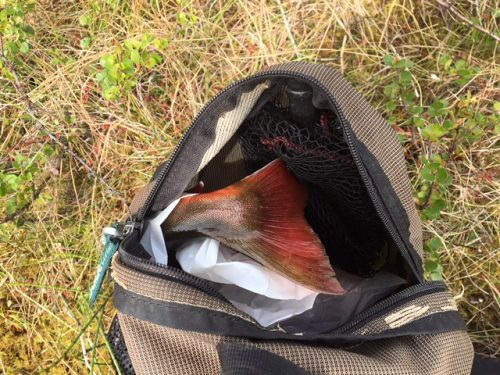 Protected boundaries at Gimån's "sel" and rapids
Gimån includes so called "sel" – which are stretches of still water situated between the rapids. A protected boundary of 300 m upstream and 300 m downstream applies for all rapids when fishing with nets and otter boards. Protected boundaries for other fishing are 100 m upstream and 100 m downstream from each and every rapid.
The same fishing regulations regarding waters lacking game fish apply otherwise for Gimån's "sel".
Restrictions regarding fishing gear and fishing
One fishing rod with maximum three hooks per person and fishing license applies in all flowing water and all other waters stocking natural or implanted stocks of game fish. In all other lakes, pools and Gimån's "sel" maximum 4 nets per fishing license are allowed. It is also permitted to fish with rods, angeldon, fyke net/osier basket, longlines and otter boards. Deference must be taken to all protected boundaries stated above regarding Gimån's "sel" and the protected rapid boundaries when fishing in Gimån's "sel".
Floats
Floats are forbidden in any water stocking game fish. An exemption is Gimån's "sel", with deference however taken to the protected zones upstream and downstream of the rapids, as indicated above concerning Gimån's "sel" and the rapids' protected zones.
Definitions
Game fish = natural and implanted stocks of char, trout, rainbow trout and grayling. (Not whitefish!)
Floats = boat, floating ring (hoop/tire), canoe, Canadian canoe and any other equipment that implies that fishing is not carried out from the shore.
Baited hooks = fish hooks that are baited with any sort of bait, living or dead – of biological or synthetic material.
Definitions and fishing licenses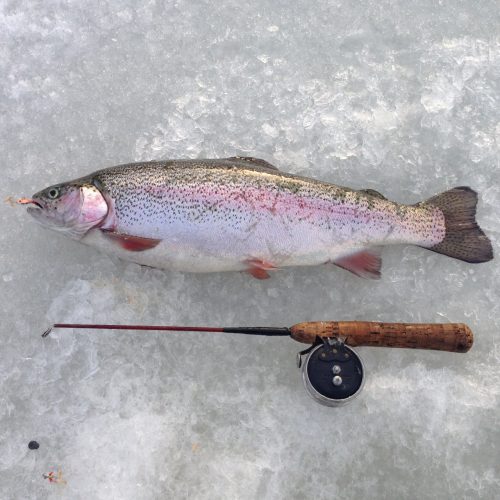 Determined at the association's meeting 18th March 2018.
Please read the definitions stated below in order to simplify your choice of fishing license.
Local residents = those residing and registered by national registration in the fishery area.
Fishery titleholder = real-estate owners with fishing rights in the fishery area according to the fishing rights list from March 2018.
Permanent residents in Bräcke Municipality = permanent residents registered in Bräcke Municipalty who do not come under the definition local resident or holiday-home owner.
Holiday-home owner = those who:
Own a holiday-home within the fishery area
Those renting a holiday-home over an on-going period of time or in any other way spend leisure time living within the fishery area
Those married to or cohabiting with anyone relating to 1 and 2 above.
Visitor/tourist = those who temporarily or/and on recurrent occasions visit the area.
All those who do not fit in under the term local resident/holiday-home owner/fishery titleholder or permanent residents in Bräcke Municipality adhere to the term visitor/tourist.
Fishing licenses
Season license (12 months - calendar year)
Local resident 300 SEK (valid for the entire area FVO including Gimån rapids & "sel")
Holiday-home owner 375 SEK (valid for the entire area FVO including Gimån rapids & "sel")
Resident in Bräcke Municipality 1000 SEK (valid for the entire area FVO including Gimån rapids & "sel")
Fishery titleholders fish free in the entire FVO area
All local residents and holiday-home owners holding a season license for the current year are entitled to invite 1 (one) fishing guest to fish free.
Free fishing is valid to titleholders of fisheries/fishing grounds in the entire area. Titleholders may also, if they wish, purchase an annual fishing license corresponding to the price paid by permanent residents (300 SEK) and are thereby entitled to invite a non-paying fishing guest.
Those holding an annual license for "Permanent Residents in Bräcke Municipality" are however not entitled to invite non-paying fishing guests.
In Gimån
Gimån license 7 days: 800 SEK (valid for all rapids in the FVO) FVO= fishery
Gimån license 24 hrs: 150 SEK (valid for all rapids in the FVO)
Weekend license Gimån: 250 SEK (valid for all rapids in FVO from Friday 06 pm until Sunday 06 pm)
All licenses for Gimån are valid in all the other fishing waters in the FVO.
Fishing licenses in other parts of the fishery
7-day license: 400 SEK (valid in the entire area with the exception of Gimån rapids)
24 hr license: 100 SEK (valid in the entire area with the exception of Gimån rapids)
Weekend license: 160 SEK (valid in the entire area with the exception of Gimån rapids from Friday 06.00 pm until Sunday 06.00 pm)
Premiere fishing in specific waters: regulations and prices will be announced before the premiere.
All licenses are valid for the times stated on the specific license and are also personal – they are not transferable and may not be loaned out!
Other facts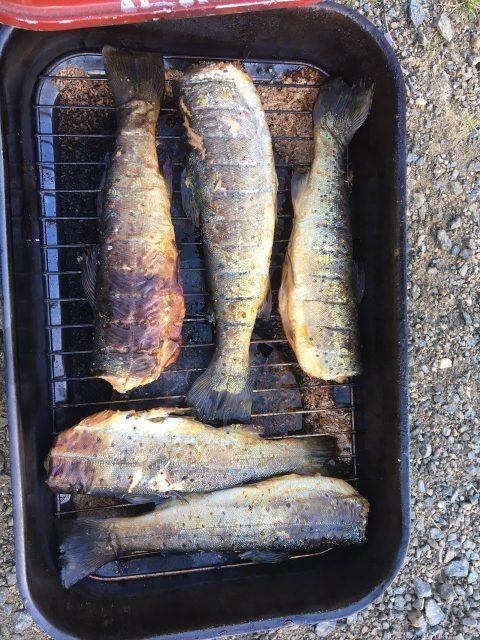 Local residents, holiday-home owners and fishery titleholders holding an annual license are permitted to fish in the entire fishery area i.e. even the Gimån rapids and may invite one fishing guest.
Free fishing is permitted in the entire area for all children/youths up to 18 years of age.
Fishing for children/young people under 16 must unconditionally be in the company of adults! Young people between the ages of 16 – 18 who are fishing alone must be able to show legitimate identification.
Fishing licenses may be purchased from:
Kristina Johansson
Storåsen 116
844 98 Kälarne
Arne Sjögren
Albacken 162
843 98 Sörbygden
Albackens Jakt och Fiske camp
Svartnäset 145
843 98 Sörbygden
Kjellbergs Motor
Riksvägen 24
843 31 Bräcke
Gunvor Sundin
Ösjön 185
844 98 Kälarne
Bilisten Kälarne
Västanedevägen 2
844 97 Kälarne
Roger Lindstein
Hucksjöåsen 129
844 98 Hucksjöåsen
Bräcke Motor & Fritid/Autoexperten
Riksvägen 1
843 31 Bräcke
Bert-Olov Olsson
Hucksjöåsen 142
844 98 Kälarne
Our fishery and current fishing waters (this information will be kept up-dated re new additions)
The area following Gimån stretches from Storselforsen downstream to the mouth of Gräsmyrbäcken on one side and downstream from the dam on the other side to Strandåker Bridge.
Also included are the lakes, tarns, rivers and streams stated below. For further and more detailed information please check the specific map produced 1987 by the Ordnance Surveying Authority Jämtland when implementation of the fishery was effected.
The following rapids in Gimån are included:
Storselforsen downstream from the mouth of Gräsmyrbäcken in Gimån and downstream from the dam on the other side
Abborrselforsen (Forsen = rapids)
Rotselforsen
Hucksjöforsen
Täckelsjöforsen
Skravelforsen
Getingforsen
Nyängesforsen
Måsjöforsen
Fish for grayling and trout in all the rapids.
Other spate fishing
Rotån (trout) (Ån=river)
Gravdalsbäcken (trout) (Bäcken = stream)
Täckelån (trout)
Lillholmtjärnbäcken (trout)
Åsjöbäcken (trout)
Mörtån (trout)
Tarns/lakes with game fish
Stor-Holmtjärn Tarn (trout, char) (Sjön=lake)
Lännrostjärn (rainbow trout/char) (Tjärn=tarn)
Mörtsjön (trout, char, whitefish, perch)
Stor-Rörmyrtjärn (char, trout)
Öster-Lillsjön (char, rainbow trout, trout, perch)
Östra-Rörtjärn (char)
Other valid fishing waters
Måsjön (pike, perch, whitefish) (Sjön =lake)
Dragsjön (pike, perch)
Alan (pike, perch,trout)
Larttjärn (perch) (Tjärn = tarn)
Åsjön (pike, perch)
Sundsjön (pike, perch)
Ösjön (pike, perch)
Täckeltjärn (pike)
Waters in the fishery leased only to tenants and their guests
Alatjärn (Tjärn = tarn)
Björnlidtjärn
Holmtjärn – sometimes known as Petter-tjärnen (towards Gustavsnäs)
Kyrtjärnarna
Lillslottjärn
Storslottjärn
Myrbärtjärn
Nissetjärn
Rörtjärn (towards Gustavsnäs) (Näs = promontory)
Svarttjärn (towards Gustavsnäs)
Torenstjärnarna
Lillsjön (Småsjöarna) (Sjön = lake)
Fish monitoring
There are 5 fishing controllers in the FVO area, whose names and addresses you can see below. When monitoring they are obliged to show proof of their appointment, which is issued by the County Administration Board. You must always carry your license with you when out fishing in the area.
Yngve Larsson
Albacken 212
843 98 Sörbygden
Tomas Jonsson
Albacken 183
843 98 Sörbygden
Roger Lindstein
Hucksjöåsen 129
844 98 Kälarne
Sebastian Olsson
Hucksjöåsen 142
844 98 Kälarne
Helge Lindqvist
Måsjön 120
844 97 Kälarne
Accomodation
Notåvallens Camping
Situated on the shores of Gimån. There are 3 cottages available each containing 4 beds and suitable space for caravans and tents is also on hand.
Contact person: Märta Johansson +46 70-533 74 57
Cottage at Måsjöforsen
A 5 bed cottage is available in Albacken by Måsjöforsen – quilts and pillows are provided – bring your own sheets.
Contact persons: Bodil Johansson +46 768-22 46 57 Mona Perman +46 70-523 13 60
Albacken's Hunting/Fishing Camp
A bigger more sophisticated camping site with all the modern facilities. For further information and contacts please check the website www.albacken.com.
Food purchase and other shopping:
ICA in Kälarne.
Byalivs in Albacken – basic range of food.
ICA or/and Konsum in Bräcke. Bräcke has other shops/boutiques.
ICA or/and Konsum in Hammarstrand. Hammarstrand has other shops/boutiques.
Where to eat
If you feel like a full three course dinner we can warmly recommend "Café-Restaurant Fredsberg" in Sörbygden – or why not just pop in and try one of their popular ice-creams – there are 50 delicious flavours to choose from.
Accommodation is also a possibility here!!
For more information please contact the restaurant on phone number +46 722 003655.